Jurassic World: Dominion Dominates Fandom Wikis - The Loop
Play Sound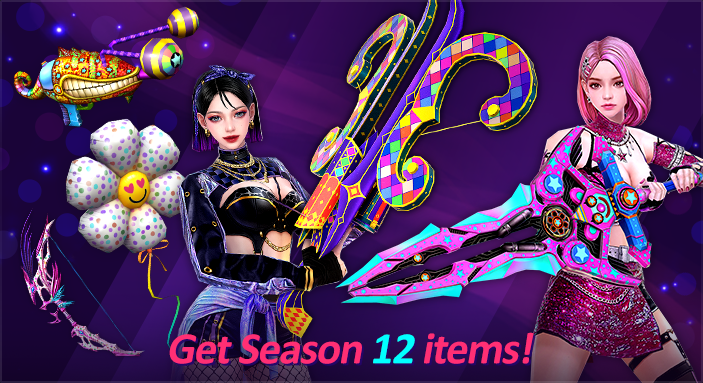 2022 Season 12 is a Season Pass event in Counter-Strike Online.
Overview
We invite you to CS Online amusement park full of dreams and hopes!
Season information
Season is a reward system that runs for a certain period of time. During the season, by completing missions and  events to collect  'Season Badges' and raise your  'Season Rank', you can instantly obtain various and rare rewards depending on the rank.
Season Rating
Season Rank indicates the 'achievement' of playing the game and participating in missions and events during the season. As you level up your season, you can earn a variety of rare rewards. Season ranks and season badges are tied to that season.
Seasonal Rewards
In each season, you can earn instant rewards based on the rank you achieve. When you purchase a season pass, you can get both season pass rewards and free rewards. Starting with the Season 9 Pass, the season reward items will be changed to non-seasonal items.
Black Market Early Open
Players who reach level 100 early will open the black market early. When you reach level 100 of the current season pass, the season mission ends. A new mission to earn Black Market Badges begins. New products added:
CSO Earplugs
Orc Warrior Deimos (5 days)
Dark Elf Wizard Banshee (5 days)
Elemental Tracker Parts Box (Elemental Tracker 2 Days + Gun Boost 5 + Speedup Parts 5)
Past Season Pass Repurchase Feature Open
A page where players who reached level 100 early can repurchase past season items will be opened! The season's past achievements will be kept intact, and items can be obtained by purchasing the season grade on the page. Past seasons open with this patch: Season 9.
CSO Earplugs
CSO brand earplugs to be worn on the head. Black Market can be accessed from the [Mission] menu when you have achieved level 100. All Black Market Badges acquired will be destroyed when a new season starts.
Season Reward Items
For those who don't have enough weapons, from Season 12 onwards, you will be provided with 3 different category 3 paper reward weapons so that you can enjoy the game by composing a variety of weapons in one season pass.
Pierrot Chameleon Gun
Main article: Pierrot Chameleon Gun
A special pistol made by Pierrot, inspired by a home-grown chameleon. It made it easy to hit the target with five waves of spreading waves, and also included an invisibility function that allows you to quickly hide yourself in case of a failed trick.
Pierrot Magic Bow
Main article: Pierrot Magic Bow
This is a magic crossbow designed to hit the target even when shooting in the wrong place. Energy volts are made to recharge automatically.
Pierrot Blessing Sword
Main article: Pierrot Blessing Sword
A legendary toy sword that can only be used by the selected Pierrot. When <Blessing Guard> is available, the blade turns red.
Amusement Park Paint
Season 12 reward weapon skin. Target weapons:
Amusement Park Heart Headband (Head)
Amusement Park Balloons (Etc)
Amusement Park Snack Bag (Waist)
Misc
Gallery
Trivia
This season introduced the second revamp of the Season Pass system after 2020 Season 6. Painted weapons are reduced from 10 to 5, zombie costumes are removed, Growth Weapons are replaced with 3 Season Weapons, and Season Nameplate and Font are introduced. Season resale starting Season 9 is also introduced.
---