For the original version, see AK-47.
AK-47 60R (Avtomat Kalashnikova 1947 60 Rounds) or AK47 Custom is a Unique grade assault rifle in Counter-Strike Online.
Overview
The AK-47 60R can be randomly obtained by players if they are selected as a Sidekick in Zombie: The Hero or from supply boxes in Zombie: The Union. This rifle is very powerful against any zombies as it can kill a Regular Zombie in just between 15 - 20 shots. It has also high rate of fire and high magazine capacity for an assault rifle. Moreover, this weapon is equipped with a scope, making it the best assault rifle against zombies.
This weapon is highly recommended to be combined with Deadly Shot, especially when dealing with hardened targets, such as fully-evolved zombies.
It's also available during zombie kill achievement when a new Zombie Scenario map is released, after achieved an amount of zombie kills due to each region (mostly 1000).
Advantages
Does very high damage to zombies
Accurate even in long range
High magazine capacity (60)
High rate of fire
Short reload time
Usable scope
Low recoil
Can easily perform headshot
No wild spray pattern
Can penetrate more than one barrier
Disadvantages
Can only be obtained by Sidekick or from supply box/events only
Tactics using AK-47 60R
Avoid facing more than 2 zombies at a time.
A 60 round AK-47 60R can deal 3500 ~ 15000 damage. Use this advantage to kill a regular zombie with less than 3000 HP.
Tactics facing AK-47 60R
When facing a person equipped with it, it is recommended to team up and work together.
Never go for a direct combat to the AK-47 60R user as the fate is death.
Trap the user and attack him/her while he/she is reloading, you can also strike him/her from behind if he/she's focusing on a zombie that's infront of him/her.
Users
Comparison to AK-47

Positive
More accurate (+1%)
Higher damage (+31)
Can zoom via scope
Higher clip size (+30)
Lower recoil (-21%)
Neutral
Same rate of fire (91%)
Same reload time
Same ammo type (7.62 NATO)
Same weight (-13% speed reduction)
Negative
Obtainable only by Sidekicks, from supply boxes or during events only
Only usable in Zombie Mods and Zombie Scenario
Can penetrate 2 objects only
Gallery
Firing sound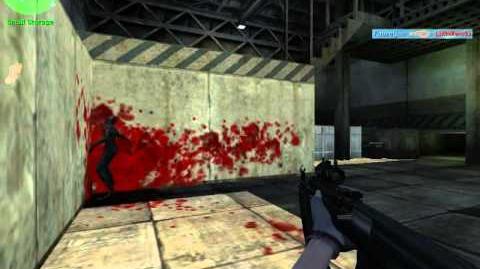 Trivia
The long magazine of this weapon exists in real life, but it can be fed with 90 rounds and never entered the service of Soviet or Russian army.
This is the only AK variant with an ACOG Scope and a rail system attached to it.
If a player is reloading the weapon while fully looking down, the magazine can be seen not fully leaving the screen before the magazine is reinserted.
Part of the magazine clips into the barrel.
Before the Zombie Mode Rework patch, this weapon could be obtained randomly from supply boxes in Zombie: The Mutation and Zombie: The Hero.
External links
---