Jurassic World: Dominion Dominates Fandom Wikis - The Loop
Play Sound

AMT Automag V (Arcadia Machine and Tool Automatic Magnum 5) is a magnum pistol available in Counter-Strike Online.
Overview
The Automag V is a .50 caliber semi-automatic pistol designed with the goal of "becoming the most ergonomic and lightweight of all the high-caliber self-loading pistols".
Advantages
High damage, same as Desert Eagle
Does not affect the player speed
Cheaper than Desert Eagle (-$25)
Stylish design
Short reload time
Purchasable with game points
Disadvantges
Low magazine capacity
High recoil
Low rate of fire
Low reserved ammunition
Variants

The BALROG-I  is a pistol based on AMT AutoMag V. It is created by
Aegis Institute
to combat Zombies. It is Chambered with 10 rounds of
.50AE AHE
. It does high damage for a pistol and equipped with a grenade launcher that can create strong explosion damage around the point of impact.

A pistol developed by
Aegis Institute
based on the Auto Mag V and fed with 7 rounds of
.50AE
. It is equipped with
Thanatos Blade System
which launches a special projectile that can explode upon hitting a target, reduces the movement speed and inflicts fatal damage to the enemy.
Comparison to Desert Eagle
Positive
Cheaper (-$25)
Lower recoil (-3%)
Neutral
Same damage (47)
Same weight (0% speed reduction)
Same ammo size (7/35)
Negative
Less accurate (-3%)
Lower rate of fire (-1%)
Release date
Default
South Korea: 12 February 2009 (Desert Eagle skin), 31 May 2012 (standalone)
Taiwan/Hong Kong: 12 June 2012
China: 13 June 2012
Halloween
South Korea: 17 October 2019.
TW/HK & China: 23 October 2019.
CSN:S: 30 October 2019.
Users
Gallery
Firing sound
Draw sound
Reload sound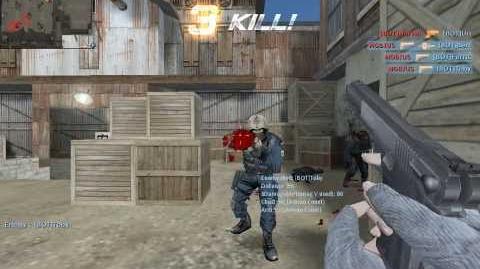 Trivia
The firing sound of the AutoMag V, is nearly similar to the Desert Eagle in Half-Life: Opposing Force.
The Automag shares the same animations with the Golden Desert Eagle except its drawing animation.
This weapon was a skin for the Desert Eagle before it was officially released as a standalone weapon.
AutoMag V's slide does not lock back after firing its last bullet, due to its shoot_empty animation being a duplicate of shoot2. It only locks back during its reload animation.
Before the Free Update patch, this weapon used to have level restriction. The players must achieve level 48 or higher to purchase it.
External links
---