Beam Sword is a Science Fiction melee in Counter-Strike Online obtainable from Bingo Event.
Overview
Beam Sword is a science fiction melee weapon made by an unknown technology. It can glow in the dark although the user can turn off the light to increase the movement speed.
Advantages
It can glow in dark areas
Can kill multiple targets
Has a longer attack range than most of the melee weapons
Able to perform two slashes at once
Easy to perform headshots
Disadvantages
Hard to obtain from Bingo Event
Other players can locate you easily in dark areas if you turn the beam lights on
Shorter range in B mode
Emits a loud sound when slashing, which usually compromises the user's attempts
The sound effect while idling makes listening to footsteps more difficult
Emits sound when deploying
Release date
South Korea: 27 June 2013.
Taiwan/Hong Kong: 2 July 2013.
China & Japan: 3 July 2013.
Indonesia: 21 July 2014.
Singapore/Malaysia: 23 July 2014.
CSN:Z: 1 April 2015.
Vietnam: 21 May 2015.
Users
: Used by SAS operative (seen in posters).
Tips
This melee weapon should be taken into account as the Wakizashi and its dual variant clustered together. 
Turning on the beam is more recommended for higher damage.
There is a trick where the user can perform a headshot easily, by looking down while attacking an enemy.
Gallery
Drawing sound
Idle
Slash miss
Target hit sound
Turning off
Slash sound, off
Turning on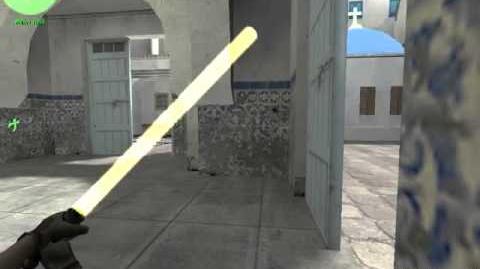 Trivia
This is the first melee weapon that was featured in the Science Fiction series.
This is also the only melee weapon that can use handle for attacking in Counter-Strike Online so far.
The weapon's animation resembles Wakizashi.
This weapon is based off from the popular "Lightsaber" of the Star Wars franchise.
This is the first melee weapon that's able to glow in the dark.
This is the second melee weapon that can change between modes with secondary fire after Hammer.
In the turned off state, it will use the same hit sound as SKULL-9.
Unlike other melee weapon, Beam Sword have no damage reduction in frag war mode
If the player defuses a C4 while the two-slash animation is playing, they are able to move while defusing the bomb, note that they must face the bomb and stay inside the defusing-range (see video).
External Links
---