Bots or AI players (Artificial Intelligence) is a system in Counter-Strike series.
Overview
Bots can only be used in Original, Deathmatch, Team Deathmatch, Bot Zombie Mod. They are fought as an opponent instead of real players. In bot modes, players can only join the same team as the room host. The room host can select their desired difficulty. In Counter-Strike Online, the host has to kill an amount of bots to unlock a new difficulty. The task gets more difficult as it goes. When a player joins a room, a bot will automatically join to balance the game if the host has checked Bot balancing. If there are friendly Bots set by the host, they will be replaced by a connected player, thus they will come back when a player drops out.
In Battle Rush and Zombie Giant, the bots are automatically added when starting a game. The room host cannot select their difficulty or number of bots.
Counter-Strike Online uses a modified Counter-Strike: Condition Zero bots as their main AI and cannot be changed.
Functions
The bots can perform a radio talk, similar to players and follow the radio commands given by the players. The bots will either accept or decline the commands, depending on their coop level. The bots will talk by Voice Chat by default and able to use this to communicate with other bots. They can also carry out the task of the mode or map as if they are a real player. However, the bots need navigation files to navigate around the map.
The bots use classic weapons. Harder bots tend to use rifles, while easier bots plainly choose any random primary weapons they can buy. Occasionally, they can be seen using other weapons like QBB-95, MG36 or USAS-12. This happens on a bot that doesn't have any weapon preference, which picked a dropped weapon before they could buy any weapon, thus making them seen like they have bought it. Using this advantage, the player can drop a friendly Bot weapons they cannot buy to make them stronger.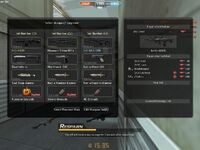 Difficulty
| Difficulty | Conditions | Bot Remarks |
| --- | --- | --- |
| Very Easy | - | Messed up aiming, very slow reaction and does not really react to sound |
| Easy | Kill 500 Very Easy bots | Slightly better aiming and reaction |
| Normal | Kill 1,000 Easy bots | Better in aiming and reaction, starts to burst-fire |
| Hard | Kill 2,000 Normal bots | Controls recoil with better aiming and faster reaction |
| Very Hard | Kill 5,000 Hard bots | AWPer is dangerous and begins to use wallbang expertly |
| Powerful | Kill 10,000 Very Hard bots | Begins to hit players even when moving, begins to jump while shooting close quarters |
| Expert | Kill 20,000 Powerful bots | Can kill a player equipped with an assault rifle by using only a handgun |
| Elite | Kill 50,000 Expert bots | The highest level available, capable to kill several enemies at one time |
Skill Template
Skill: 0
Reaction time: 0.50 seconds
Attack delay: 1.50 seconds
Skill: 25
Reaction time: 0.40 seconds
Attack delay: 1.00 seconds
Skill: 50
Reaction time: 0.40 seconds
Attack delay: 0.70 seconds
Skill: 60
Reaction time: 0.30 seconds
Attack delay: 0.35 seconds
Skill: 75
Reaction time: 0.25 seconds
Attack delay: 0.00 seconds
Skill: 80
Reaction time: 0.25 seconds
Attack delay: 0.00 seconds
Skill: 90
Reaction time: 0.20 seconds
Attack delay: 0.00 seconds
Skill: 100
Reaction time: 0.20 seconds
Attack delay: 0.00 seconds
Achievements
| Title | Description | Task |
| --- | --- | --- |
| [Bot Master] | Gentleman, always remember not to look down on weaker enemies. | Open all difficulty levels for Bot Mode. |
| [Bot Zombie Master] | Gentleman, you shouldn't belittle on them just because they are dead. Don't forget they are zombies. | Unlock Elite difficulty level in Bot Zombie mode. |
Weapon Preferences
Some bots have weapon preferences, meaning the weapon they will buy will be predictable. Knowing their weapon preferences will help players on awaring them. Notice that some of the bots don't have one. Also, some of the guns they prefer cannot be bought because cheaper guns has been set at higher priority (noted as (buy altered)). However, they will pick up those weapons if the weapon they have has lower priority or did not match their preference.
After death respawn, they will buy random weapons.
Bot Zombie Mod
In Bot Zombie Mod, BOTs are equipped with different choice of weapons:
Names
Difficulty
Very Easy
Easy
Normal
Hard
Very Hard
Powerful
Expert
Elite
Albert
Calvin (Spray)
Adam (Rifle)
Brad (Rifle)
Chad (Rifle)
Seth (Rifle)
Brett (Rifle)
Cliffe (Rifle)
Allen
Alfred
Mike (RifleT)
Connor (Rifle)
John (Rifle)
Vinny (RifleT)
Quade (Rifle)
Wolf (Rifle)
Bert
Bill
Andy (PunchT)
Derek (Rifle)
Tony (Rifle)
Quinn (Sniper)
Quintin (Rifle)
Gunner (RifleT)
Cecil
Brandon
Ianl (Sniper)
Eric (Rifle)
Victor (Rifle)
Cory (Power)
Zach (Rifle)
Steel (RifleT)
Clarence
Dean
Dennis (Shield)
Finn (Rifle)
Zim (Rifle)
David
Arnoldt (RifleT)
Pheonix (Punch)
Elliot
Dustin
Chris
Kevin (Rifle)
Chet (RifleT)
Denver
Kurt (Punch)
Shark (PunchT)
Elmer
Ethan
Colin
Rick (Rifle)
Ivan (RifleT)
Ebony
Rip (PunchT)
Stone (PunchT)
Eugene
Harold
Doug
Troy (Rifle)
Jim (Punch)
Edan
Kyle (Sniper)
Rock (Power)
Fergus
Henry
Gary
Wayne (Rifle)
Joe (PunchT)
Eldora
Moe (Shotgun)
Crusher (Shotgun)
Ferris
Irving
Grant
Xavier (Rifle)
Tyler (PunchT)
Farrell
Ringo
Zed (Sniper)
Fred
Jason
Greg
Dave (RifleT)
Vladimir (Sniper)
Favian
Gemma
Minh (Spray)
George
Josh
Jerry
Erik (RifleT)
Hank (Shotgun)
Felix
Gilbert
Fleta
Graham
Martin
Jon
Reed (RifleT)
Gabe (Spray)
Fidelio
Goofy
Gump
Harvey
Nick
Keith
Wade (RifleT)
Zane (Spray)
Darwin
Gregory
Romeo
Irwin
Norm
Markl
Xander (RifleT)
Lukas
Danika
Harley
Salvatore
Lester
Orin
Nate
Adrian (Sniper)
Mabel
Coyote
Hollis
Samson
Marvin
Pat
Paul
Don (Shotgun)
Malo
Coco
Neema
Scoop
Neil
Perry
Scott
Dan
Navid
Chase
Lloyd
Severino
Oliver
Ron
Tom
Jeff
Nicholas
Calix
Kuper
Storm
Opie
Shawn
Yahn
Ted
Pablo
Bright
Klaus
Thomas
Toby
Tim
Lakia
Dixie
Patrick
Charles
Karis
Sting
Ulric
Will
Leopold
Derry
Pello
Beck
Jericho
Spotty
Ulysses
Wyatt
Kellan
Crispin
Pooky
Aster
Reggie
Robbie
Uri
Frank
Justin
Crimson
Primo
Baldy
Jaclyn
Rio
Waldo
Frasier
Jefferson
Corby
Rex
Baba
Jace
Jasper
Wally
Yaro
Haley
Dario
Rollo
Siang
Isaac
Redford
Walt
Neal
Huey
Bruno
Rudolph
Alex
Ingrid
Phillip
Wesley
Oscar
Elvis
Jeremy
Sam
Abel
Indira
Pluto
Yanni
Poco
Duke
Jess
Sebastian
Alan
Hubert
Bob
Yogi
Verai
Cromit
Mighty
Simon
Gali
Machine
Craksus
Jean
Zeki
Yaksuman
Murphy
Sparky
Taro
Nia
Janus
Ssangma
Neogaia
Hwatas
Ranianleo
Raps
Windleo
Neige
Matt
Roy
RealBob
Steve
Andrew
Ernie
Vena
Niles
Ralph
Trivia
These bots are based from the Counter-Strike: Condition Zero.
Most bot's names are based on Valve employees' names. For example, one of the very hard difficulty is named Gabe, who is the founder of the Valve, or Minh & Cliffe, the creators of the original Counter-Strike (Minh Le & Jess Cliffe).
The bots in Bot Zombie Mod and Zombie Giant are elite bots.
All bots will only use Seal knife as their melee weapon.
The bots in Battle Rush are hard bots.
Bots cannot detect players within smokes from smoke grenade.
The weapon preference of bots in Taiwan/Hong Kong is different from other regions. Some of them use SCAR-L, XM8 Carbine, VSK-94 and QBB-95, replacing M4A1, AK-47, AWP and M249 respectively.
Regardless of the gender when the player is choosing a class, bots will still call them as "Sir".
The radio response between bots are messed up in Counter-Strike Online. This is because the navigation files for bots have been manually modified.
Community content is available under
CC-BY-SA
unless otherwise noted.