CHARGER-5 is a Rare grade assault rifle in Counter-Strike Online.
Overview
This is a 30 round 9x39mm fed weapon, which is remodelled after the Groza. This weapon has a built-in Charger Generating System (CGS), which integrates the energy generated by firing bullets and converting them to amplified energy, which is released in the form of laser beams when the user presses the trigger, that are deadly for the undead.
Advantages
High damage in both modes
High accuracy
High magazine size
Low recoil
Very high rate of fire
Light weight
Short reload time
Able to fire lasers
Disadvantages
B mode needs time and ammo to charge
Expensive in matches
Obtainable through shop only
Easily runs dry
Release date
South Korea: 24 August 2017.
Taiwan/Hong Kong: 29 August 2017.
China & Japan: 30 August 2017.
Indonesia: 25 October 2017.
CSN:Z: 6 December 2017.
Tips
Normal Matches
Since CHARGER-5 has high damage and light weight, it is recommended to be used in Team Deathmatch and Basic.
Use burst firing if the opponent's position is in long distance. Use laser fire and aim on head of opponent.
Its rate of fire is high. Use it carefully since you can dry the weapon easily.
Treat this weapon like an AKM in terms of damage. Its rate of fire is similar to most Submachine guns and the weight and reload speed to the Galil.
Zombie Scenario
It is not recommended because it has very low damage both to barriers and to bosses.
Comparisons
Positive
Lower recoil (-4%)
Higher rate of fire (+2%)
Higher magazine size (+10)
Able to fire lasers
Neutral
Same accuracy (79%)
Same speed reduction (4%)
Same ammo type (9x39mm)
Same reload time (2.5 seconds)
Negative
More expensive (-$2600)
Lower damage (-5)
Gallery
Video's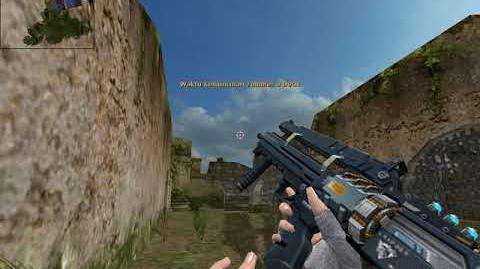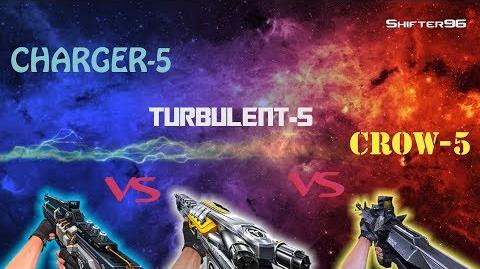 Firing sound
Trivia
External link
---