Camouflage 2 (cs_camouflage2) is an official hostage rescue map in Counter-Strike Online.
Overview
Hostage rescue
There are Terrorist forces hidden in an old building that was known to be a warehouse. As soon as this becomes known, the Terrorists kidnap four doctors from a near by government research facility and demand ransom in the form of an escape helicopter.
Zombie modes
Whilst in the middle of a fire-fight between terrorist and counter-terrorists factions, strange humanoid creatures invade the scene of the conflict at an abandoned warehouse. Bound by the necessity of survival against a common danger, the lines of counter-terrorism and terrorism are redrawn. It's the humans against the Zombies now in a race against the clock!
Release date

Gallery
Trivia
See also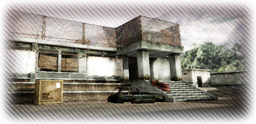 ---