Chain Grenade is a Unique grade grenade available in Counter-Strike Online.
Overview
This item is obtainable from Transcendence Decoder.
A grenade equipped with multiple warheads that detonate twice after pulling the pin. It deals roughly 30% more damage than a regular HE Grenade, and additionally, acts as three separate grenades in Zombie Hero and Zombie Scenario.
Release date
South Korea: 28 January 2016.
Taiwan/Hong Kong: 2 February 2016.
China: 3 February 2016.
Japan: 17 February 2016.
CSN:Z: 10 August 2016.
Indonesia : 12 August 2016.
Obtaining procedure
| Number | Conditions of acquisition |
| --- | --- |
| | Log in to the game |
| | Play for 150 minutes (2 hours and 30 minutes) |
| | Accumulate 3000 Kill Points |
| | Play 30 minutes each day for 7 days |
Gallery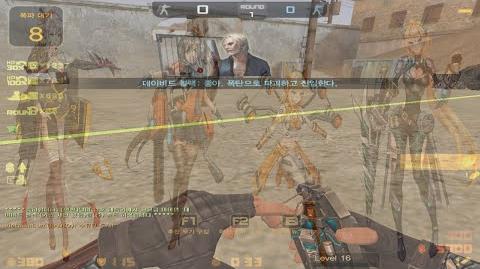 Trivia
This is the only grenade so far to be obtained through Letter Collecting Event.
It is also the only grenade so far in Counter-Strike Online to feature multiple explosions.
The letters "SG" and the sentences "COUNTER-STRIKE ONLINE", "NEXON KOREA VALVE" and "CSO USER FIGHTING" can be seen on the grenade's body. The word "FIGHTING" is mainly used as a cheer or encouragement in the eastern cultures.
The grenade light textures was initially not set to additive in game, resulting in a weird wing-like greenish blue light texture, this was fixed in later updates.
Its name in the Taiwan/Hong Kong region, "猴塞雷", is a Mandarin mondegreen of the Cantonese expression "好犀利" ("Awesome!"). It also doubles as a pun for the Year of the Monkey with the character "猴".
In Indonesia, this weapon was also added into Craft. But after the 5 October 2016 update, it was removed along with New Classic Weapons.
In Human Scenario, this grenade costs only $300 to purchase, compared to $2000 for all other grenades.