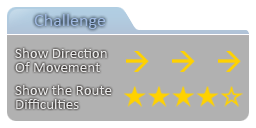 Challenge is a fun mode in Counter-Strike Online.
Overview
Despite of firefighting, the players now can use challenge mode to sharpen or test their bunnyhop and other expert abilities to pass certain obstacles in the shortest time.
The stars show you the difficulty of the path. Mostly, the higher the difficulty, the shorter the path but harder or needs certain skills.
Clear time ranking in challenge mode will be recorded down once a day for each map. The rank given will depend on the timing of your clear time.
Victory goes to a player who reached the destination area from the start area at the shortest time.
Point will be provided when you reach the final line in challenge mode. Challenge mode ranking will only record plays from 'Challenge Server'. If you pass through the red line after the final line, you will return to the start area. You can record the time without any limitations during playing time.
Compatible maps
Gallery
Trivia
It has been confirmed that this mode will never give EXP and Points to the players after finishing it.
There is a bug in the Open Beta Test of Counter-Strike Nexon: Zombies where there is no music in any maps of this mode. It was fixed in later updates.
Community content is available under
CC-BY-SA
unless otherwise noted.