"
The A-Team of the Sea
"

— TW/CN description
For his Counter-Terrorist teammate, see Lucia.
Enzo is a cash male character comes with two unique emotions in Counter-Strike Online.
Overview
He is a soldier of Garcia fleet's Counter-Terrorist. His highest goal is known as sweeping the pirates from the seas. He is always standing in front of battle if it occurs, however, he is famous to bring lots of accidents due to his wacky character.
This is a unique emotion class which is allowed to use 2 special emotions, 'Show-off power/Dance'.
Release date
This model was released alongside Lucia and Marine Force Package on:
Japan: 23 November 2011.
Singapore/Malaysia: 4 July 2012.
Indonesia: 14 August 2013.
CSN:Z: 26 August 2015.
Favorite weapon
| | | |
| --- | --- | --- |
| Health | | 24/28 |
| Attack | | 22/28 |
| Mobility | | 18/28 |
| Armor | | 21/28 |
| Ammo | | 20/28 |
Appearance
He has spike styled blonde hair and blue eyes
He wore a white and blue stripped marine shirt, A brown belt with silver head, A watch on his left arm, A pair of sunglasses over his head, White marine pants, A tattoo on his left arm, And a pair of white shoes
Gallery
Marine dance sound
Muscle show sound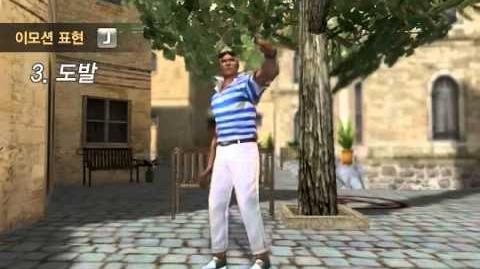 ---