FNP-45 is a semi-auto pistol in Counter-Strike Online.
Overview
A stable and balanced .45 caliber pistol that holds 15 rounds. This is the next generation JCP (Joint Combat Pistol) that was built in 2007 to compete with M&P45 and HK-45, as well as other .45 caliber pistols.
Advantages
Powerful in close range
Quite cheap
Quite high damage
High accuracy and rate of fire
Low recoil
No speed reduction
Short reloading time
Disadvantages
Release date
South Korea: 7 May 2015.
Taiwan/Hong Kong: 12 May 2015.
China: 13 May 2015.
Japan: 27 May 2015.
Indonesia: 26 August 2015.
CSN:Z: 14 March 2018
Procedures obtaining
This weapon can be obtained by participating in the Special Mission event:
Duration Extender can be used to extend the duration of FNP-45.
Obtainable by completing Special Missions (100-day duration for each time completing). Note that a Special Mission can only be completed once per day.
Permanent status can be obtained after collecting it for 1000 days.
Player can choose other prizes as well after completing Special Mission.
This weapon can be obtained for permanent by completing these conditions:
This and the Battle version can be obtained from Battlefield Supply for permanent.
Regular FNP-45 for logging in 7 times.
Battle FNP-45 for logging in 25 times.
Comparison to USP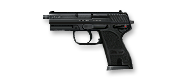 Positive
Higher magazine size (+3)
Lower recoil (-11%)
Neutral
Same damage (30)
Same accurate (72%)
Same rate of fire (85%)
Same speed reduction (0%)
Same knockback and stun powers
Same ammo type (.45 ACP)
Same reloading time (2.5 seconds)
Can be purchased by both teams
Negative
More expensive (+$50)
No attachable silencer
Obtainable through events only
Players cannot spawn with it as a default weapon
Gallery
Trivia
The words ".45 ACP", "FNP-45" and the logo of FN Herstal manufacturer can be seen printed on the weapon's body.
External Links
---
Community content is available under
CC-BY-SA
unless otherwise noted.