FN F2000 is a premium assault rifle in Counter-Strike Online obtainable randomly from Code Box only.
Overview
This is a bullpup-styled assault rifle holding 30 rounds of 5.56 NATO. It boasts high rate of fire and high accuracy. However, its movement speed is slow due to its heavy weight.
Advantages
High accuracy
High rate of fire
Availability to zoom through the scope
Purchasable for both Counter-Terrorists and Terrorists
High knockback power to zombies
Low recoil
Moderate damage
Disadvantages
Heavy weight
Obtainable through Code Box only
Expensive price
Movement speed decreases when scoped
Comparison to Steyr AUG A1
Positive
Higher knockback power
Purchasable by both teams
Higher rate of fire (+5%)
Does not run dry easily
Neutral
Same magazine size (30/90)
Same ammo type (5.56×45mm NATO)
Same recoil (18%)
Same damage (28%)
Same reload time (3.3 seconds)
Usable scope
Negative
More expensive (+$100)
Obtainable only through Code Box
Less accurate in long range (-1%)
Lower stun power
Heavier (+10%)
Release date
Taiwan/Hong Kong: 21 April 2009
China: 22 April 2009
South Korea: 21 May 2009
Japan: 11 March 2010
Singapore/Malaysia: 8 September 2011
Indonesia: 15 February 2012
CSN:Z: 1 April 2015
Vietnam: 21 May 2015
Gallery
Firing sound
Draw sound
Reload sound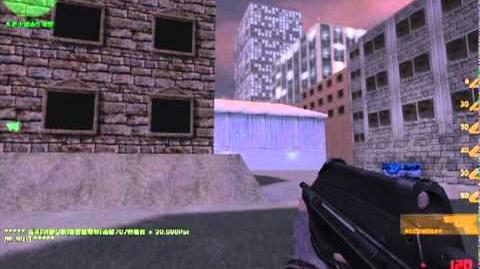 Trivia
The FN Herstal logo can be clearly seen when the user reloads the weapon.
External links
---