See Salamander for its rival.
Leviathan is a primary miscellaneous weapon in Counter-Strike Online categorized in equipment category.
Overview
This weapon has Part System installed.
Leviathan uses a rapid cooling device that is carried on the back. It fires 100 rounds of liquidized nitrogen gas to reduce the enemy's movement and take a control in the battlefield. This weapon is known as the cold counterpart of the Salamander.
Advantages
High magazine capacity
Can slow down enemy
Light weight
No recoil
High reserve ammunition
Effective against zombies
High rate of fire
High stun power
Disadvantage
Low damage
Has a delay hit depending of the distance
Cannot penetrate objects
Impossible to perform headshot (except with Deadly Shot)
Short-ranged
Expensive
Release date
South Korea: 4 July 2013.
China & Japan: 10 July 2013.
Taiwan/Hong Kong: 16 July 2013.
Turkey: 18 December 2013.
Singapore/Malaysia: 12 March 2014.
Indonesia: 10 December 2014.
CSN:Z: 12 February 2015.
Vietnam: 26 March 2015.
Analysis
Damage: Almost same as FN P90.
Recoil: No recoil at all. Good for spraying.
Rate of fire: Same as Salamander.
Weight: Same as Salamander.
Magazine size: Same as Salamander.
Special: Slows down the enemy.
Tips
A 100 rounds of Leviathan can deal around 21,000 damage to bosses, provided that the firepower has been maxed.
Comparison to Salamander

Positive
Can slow down enemy
Cheaper (-$300)
Neutral
Same weight (9% speed reduction)
No recoil (0%)
Same rate of fire (100%)
Same knockback and stun power
Same magazine size (100/200)
Cannot penetrate objects
Cannot perform headshot (except with Deadly Shot ability)
Limited range
​Negative
Lower damage (-17)
No afterburn effect
Gallery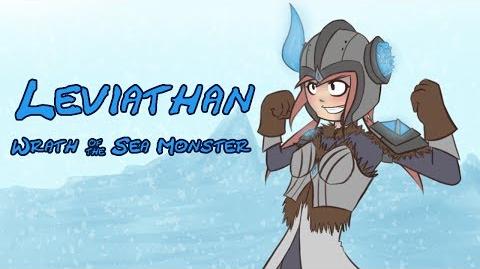 Trivia
Leviathan is released in South Korea around the same time the Salamander is released in Thailand.
Leviathan is a whale-like sea monster in the Old Testament.
Leviathan's users will carry a cooling device on their back.
The muzzle flash is also used when a Holy Bomb explodes which is originally comes from a Zombie Grenade.
Leviathan has similar stand style like M134 Minigun.
External links
---