Oz Tin Robot Machine Gun is a machine gun in Counter-Strike Online.
Overview
This is a machine gun fed with 100 rounds of 5.56 NATO allocated in 5 different chambers, resulting in 20 rounds per chamber. When reloading, it is reloaded per chamber and takes 5 seconds to do a full reload. However, the reload can be cancelled, like a regular shotgun, to be fired while reloading. When equipped alongside other Wizard of Oz set:
Maximum round increases to 30 per chamber, resulting 150 rounds. (2 Oz Weapons - with either Oz Lion Pistol or Oz Scarecrow Pickaxe)
Maximum round increases to 40 per chamber, resulting 200 rounds. (3 Oz Weapons - whole set)
Advantages
High damage
High accuracy
High rate of fire for a machine gun
Low recoil
High stun power
Can be fired while reloading
Large reserved ammunition
Maximum round can be increased if equipped with other Wizard of Oz weapon
Disadvantages
Very expensive
Heavy weight
Low knockback power
Release date
This weapon was released alongside Wizard of Oz set on:
South Korea: 4 December 2014.
Taiwan/Hong Kong: 16 December 2014.
China& Japan: 17 December 2014.
Indonesia: 29 April 2015.
CSN:Z: 28 October 2015.
Analysis
Users
Comparison to M249
Positive
Higher damage (+3)
Higher accuracy (+7)
Lower recoil (-1)
Higher stun power
Higher reserved ammo (+200)
Can be fired while reloading
Maximum round can be increased if equipped with other Wizard of Oz weapon
Neutral
Same rate of fire (90%)
Same knockback power
Same ammunition (5.56 NATO)
Can be purchased by both team
Negative
Higher speed reduction (+4%)
More expensive (+$950)
Purchasable by cash only
Gallery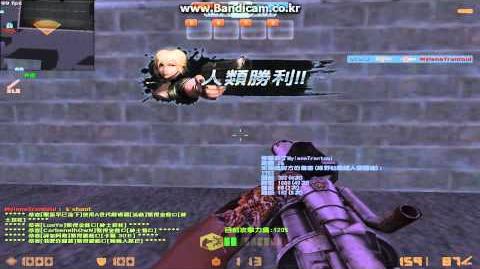 Trivia
This machine gun is based on the Tin Woodman, a main fictional character from The Wonderful Wizard of Oz, a children's novel written by L. Frank Baum and illustrated by W. W. Denslow.
Even though this weapon doesn't belong to steampunk series, it uses the same steam mechanism.
This is the only machine gun that can be fired while reloading so far in Counter-Strike Online.
This is the first weapon that is able to change magazine size by equipping with other weapons from their own set.
The firing sound is similar to SKULL-8.
The appearance of this weapon seems to be based on the Maxim gun, a very early machine gun design.
External links
---