Petrol Boomer is a primary equipment in Counter-Strike Online.
Overview
This weapon has Part System installed.
Petrol Boomer is developed by a private sector. The compressed gas in the Petrol Bomb gives a big explosion when fired. Upon contact, massive damage is dealt to the area where the explosion occurs, and a damaging fire is left behind for a certain period of time.
Details: The gasoline bottle burns the place it lands, doing damage every tick for 5.5 seconds. Damage: 8 (Normal), 113 (Zombie), 188 (Scenario)
Advantages
Instant kill if direct hit
Leaves the area on fire upon explosion
Lights up everything in its radius except the user
Still functioning in the water
Slows enemy down when walking upon the fire
Disadvantages
Low clip size
Single shot only
No stun and knockback powers
Heavy weight
Long reload time
Unable to perform headshots except with Concentrated Fire
Sold during a limited period of time
Expensive price
Tips
After shooting, the fire will burn for 7 seconds.
1 shot can deal up 7000 damage to Bosses, provided that attack power has been maxed and if it is within range of the radius of the fire.
In order to prevent incoming hordes of zombies, simply drop the weapon and rebuy (press

F2

by default).
Release date
South Korea: 10 July 2014.
Taiwan/Hong Kong: 15 July 2014 (Reservation Ticket); 22 July 2014 (full release).
China & Japan: 23 July 2014.
Indonesia: 17 December 2014.
Vietnam: 13 October 2015.
CSN:Z: 23 March 2016.
Users
Weapon stats
| | | |
| --- | --- | --- |
| Damage | | 100/% |
| Accuracy | | 0/% |
| Recoil | | 88/% |
| Fusillade | | 0/% |
| Weight | | 23/% |
Gallery
Drawing sound
Ditto, empty
Explosion sound
Idle sound
Reload sound
Shooting sound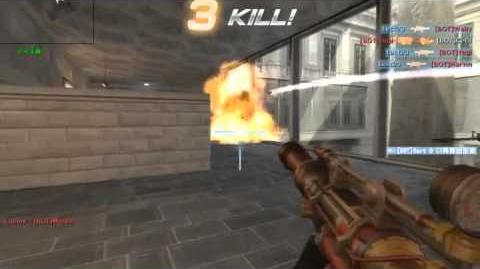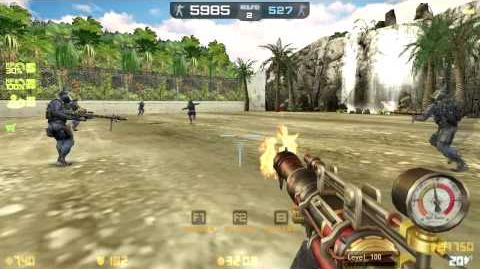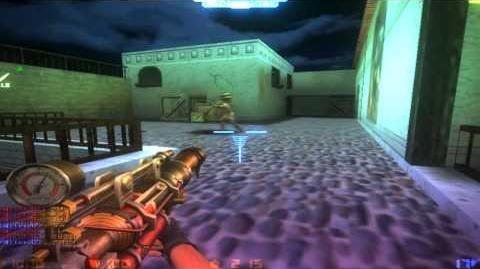 Trivia
The ammunition used is Petrol Bomb, a British term for Molotov Cocktail (American).
The Molotov Cocktail was planned to be implemented in Counter-Strike 1.6, but was scrapped before the release alongside some other weapons and items. It made its first appearance in Counter-Strike: Global Offensive.
This is the third weapon that is equipped with an pressure meter after Gae Bolg and Aeolis.

The air meter shows the "Kill Ratio" of 40-60 Ks instead of gas pressure.

Even though the flame burns everything in its radius, it deals no damage to its user.
The burning radius does not spread when hit ceilings or walls.
This is the first non-anti-zombie weapon that has Reservation Ticket.
Some places such as ducts like in Assault, will not show any flame at all. However, the burning effect still occurs.
The flame still burns underwater.
It remains a mystery as to how the player stores burning Molotov Cocktails in their holsters.
External link
---