For light machine gun version, see QBB-95.
QBZ-95B (轻武器—步枪—自动, 1995年式 Qīng Wŭqì — Bùqiāng — Zìdòng, 1995 Nián Shì; Small Arm, Rifle, Automatic, Model 1995) is an assault rifle in Counter-Strike Online.
Overview
The QBZ-95B fires 35 rounds of 5.56 NATO ammunition. It has moderate damage, accuracy and decent recoil. Thus, it has high rate of fire, light weight and takes short time to reload.
Advantages
Cheap price
Light weight 
Purchasable by both teams
High magazine size
Short reload time
High rate of fire
Can be obtained permanently (through events)
Disadvantages
Obtainable only during special events only
Decent recoil
Release date
Default
China: 28 September 2011.
Taiwan/Hong Kong: 8 November 2011.
Japan: 16 January 2013.
Singapore/Malaysia: 25th April 2012.
Thailand: 27th February 2013.
Indonesia: 10 April 2013.
CSN:Z: 23th September 2014.
Vietnam: 26th March 2015.
Trans-Gear
South Korea: 24 January 2019.
China & Taiwan/Hong Kong: 29 January 2019
Indonesia: 30 January 2019.
CSNZ: 20 February 2019.
Users
Counter-Terrorist:
Variants
Trans-Gear
A special edition released for Season 1 Compensation. It has larger magazine size (40) and deals higher damage to zombies.
Gallery
Shoot sound
Reload sound
Draw sound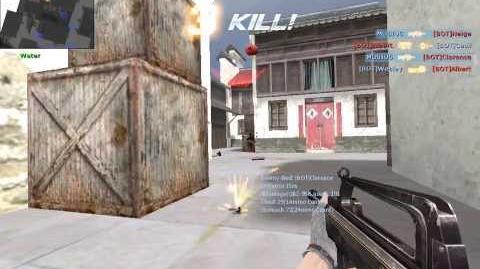 Trivia
It shares the same performance with Galil.
The model lacks of fire mode selector.
CSO Thailand is the only region that imposes a level restriction (22 and above), making the QBZ-95B a purchasable weapon. However, this region no longer exists.
External links
---