Regular zombie is the default playable zombie class in Zombie: The Original, Zombie: The Mutation, Zombie: The Hero, Zombie: The Union, Zombie: Darkness, and Zombie Escape.  It appears as AI-controlled enemy in Zombie Scenario.
Background
This is the first type of zombie found at the Rex Lab's B-1 Center. It temporarily runs through the muscular strength beyond the limits of the body.
Abilities
| Icon | Name | Description |
| --- | --- | --- |
| | Berserk | Increases movement speed for 10 seconds, but increases damage received by 50%. |
| | Reproduce | Restores 2,000 / 3,000 / 5,000 health points. The amount of recovery increases as the evolutionary stage increases, and the maximum amount of physical power can not be exceeded. |
Zombie Mods
Zombie Classic
After the incident in Rex Research Institute, the scientists are infected by a virus which turns them into zombies (Origin Regular zombie). The zombies have now escaped from Rex and started infecting other humans. The Counter-Terrorists and Terrorists must combine their forces in order to survive the outbreak.
Zombie Mutation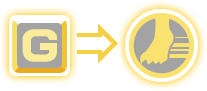 After obtaining many human blood samples from infecting humans, the Host Regular zombie is now able to evolve into an Origin zombie and use the 'Berserk' ability which enhances its movement speed and knockback resistance for a certain amount of time. The zombie can continue in evolving until it reaches the Evolute Stage or simply the Prime Stage which grants it a very high amount of health and armor power. The zombies can also regenerate their HP under certain conditions and are able to use Zombie Grenades.
After the Zombie Mode Rework patch, 'Healing' skill is added, making them able to heal themselves. Regular zombies now have 2 skills: Berserk (default by G) and Healing (default by 5).
Zombie Hero
Zombies are able to revive from death as long as they are not killed by a headshot. Host Regular zombies can also use the Berserk and Healing abilities but it is less efficient when compared to the one of Origin zombie. When a zombie receives a certain amount of damage or either infect humans, its Anger Bar will increase and when it is maxed out, the zombie will evolve to the next evolution stage and receive more HP and armor power.
Zombie Union
Regular zombies have 2000 health points and 200 armor points(2500 health points and 250 armor points with Strong Lifepower set). The Berserk ability increases the speed of the zombie and doubling its damage by 2 times, however it decreases the defensive power while in use.
Zombie Darkness
Zombie Scenario
This zombie appears in all zombie scenario maps, along with different colored one in some maps.
Abilities:
-Berserk: greatly increase movement speed for a period of time.
| Zombie Type | Skill Time (s) | Cooldown Time (s) |
| --- | --- | --- |
| Origin | 10 | 5 |
| Host | 5 | 10 |
-Healing: restores a certain amount of HP.
Gameplay
Tactics
Counters
Gallery
Enhanced
Trivia