SKULL-2 is a Rare grade dual SKULL revolver in Counter-Strike Online.
Overview
This weapon can be obtained through special events in certain regions, or Mileage Auction for Counter-Strike Nexon: Zombies.
SKULL-2 is a special 7-round revolver loaded with .50 Anti-Zombie bullets each pair. As aforementioned implied, it was reorganized to enable dual wielding, giving it a higher ammo count. Like its predecessor, it boasts fatal damage and high penetration power, in part due to its illustrious Anti-Zombie-purposed bullets.
Advantages
High damage in both modes
High accuracy, especially in B mode
High rate of fire in both modes
No speed reduction
High magazine size in A mode
Fast reloading time
Low recoil
Disadvantages
High recoil
Hardest SKULL weapon to obtain
Low magazine size in B mode
Low spare magazine
Expensive price
Lacks the full-auto mode present in SKULL-1
Obtainable through certain events only
Release date
China: 25 November 2015.
South Korea: 3 December 2015.
Taiwan/Hong Kong: 2 February 2016.
CSNZ: 13 July 2016.
Indonesia: 30 November 2016
Comparison to Dual Desert Eagle

Positive
Higher accuracy in both modes (A: +11%; B: +19%)
Higher rate of fire in A mode (+2%)
Higher stun power
Faster reloading time in both modes (A: -1.6s; B: -2.6s)
Can be used in many Game Modes
Neutral
Same recoil (30%)
No speed reduction
Negative
Not free
Lower damage in both modes (A: -42; B: - 34)
Lower rate of fire in B mode (-2%)
Lower knockback power
Lower magazine size in both modes (A: -14; B: -21)
Smaller spare magazine size (-35)
Obtainable through certain events only
Gallery
Shoot sound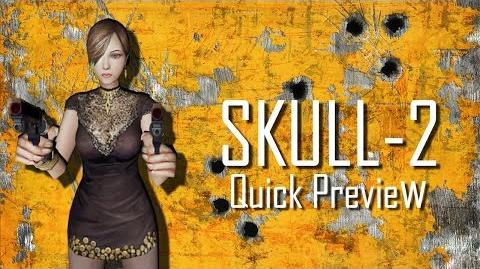 Trivia
SKULL-2 is the first akimbo Anti-Zombie pistol.
The SKULL-2 is drawn in akimbo mode at default.
The single form switching animation is similar to the FNP-45's drawing animation.
So far, this weapon can only be obtained once, with the exception of Counter-Strike Nexon: Zombies, which allows purchasing copies from Mileage Auction.
---