The SKULL Series is the first Anti-Zombie weapon series to be featured in Counter-Strike Online built specifically to combat zombies. The weapons were developed by the government in response to the zombie virus outbreak incident and have since started a long line of specialized weapons to assist in wiping out the undead.
Overview
The weapons from the SKULL Series deal fatal damage to zombies through the use of specially augmented materials that were used in the development of the weapons. The results of the process gave the 5.56mm Anti-zombie, .50 Anti-Zombie, .45 Anti-Zombie, 12 Gauge Anti-Zombie cartridges and the blade of the SKULL-9 extremely high firepower and penetration rate. Thus, all SKULL weapons are very effective in dealing with zombies.
So far, there are 10 weapons in the SKULL Series, making it the only one to feature the most variants compared to other series:
SKULL-5 and SKULL-7 CSOWC Edtions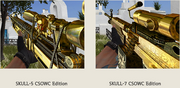 These are the special editions of SKULL-5 and SKULL-7 released during CSO World Championship 2014 in Seoul. They were given to the participants of the tournament. They are covered with a layer of chrome and do not possess any statistical differences.
Craft items
After the Craft update on 26 February 2015 of South Korea, these items were removed.
Class
Material
A
S
Components

South Korea: 1000 points (1 day), 10,000 points (10 days)
TW/HK: 1000 points (Permanent)
SG/MY: 1000 points (Permanent)
Indonesia: 3000 points (1 Unit), 30,000 points (10 Units)
Achievement
| Title | Description | Task |
| --- | --- | --- |
| [SKULL] | Gentlemen, having good weapons will be a more effective survival strategy. Of course, do not forget the fact that skills should be supported! You must own the weapons for unlimited duration. If not, the medal will be removed. | Collect all the first generation SKULL weapons (1,3,5,7,9,11) for permanent. |
Trivia
This is the first anti-zombie weapon series introduced into Counter-Strike Online.

This is also the first anti-zombie series to have Painted versions.

These weapons possess color patterns that include different tones of yellow with black or dark blue, featuring a crafted Skull figure or art on them.
All weapons from this series can penetrate up to 4 objects except for SKULL-9 and SKULL-11.
This is the only anti-zombie weapon series so far to feature 11 variants, with only SKULL-10 unavailable..
See also
---
Community content is available under
CC-BY-SA
unless otherwise noted.