Second Report (pve_standalone2) is the second Zombie File map in Counter-Strike Online.
Overview
This map takes place in a forsaken city corrupted with the zombie virus. Taking role as Senior Researcher Soy, the player must find the way to get to a warehouse in order to escape.
Background
Lost City Case File
Soy woke up in a hospital, only to find out that it was actually a front for the laboratory. She narrowly escaped, and on her way found a survivor relaying instructions over a walkie-talkie. She headed to their secret rendezvous point in hopes of survival. She fearlessly made a choice to take all of the lab samples to try and end this horror.
Transcripts
Whew, that was close.. But where am I? Am I outside the institute yet...
Apparently the building compound of the Lost City is near...
TIP: Press the SHIFT key to run, but it consumes stamina.
Radio Sound: Gather at local transmission! Gather at local transmission!
Radio Sound: The current extraction point is switched to a gas station!
Radio Sound: Be secure and retreat over the emergency fuel!
Well...!? What!? Is the army...?! I need to see them!!! So I can survive.
Here is the disaster said on the radio!
Here we go!!!!!!!!!!
I must keep the sample and come to meet them exactly!!!!!
TIP: A closed door or lock can be opened by using the

E

key.
Kya!!!! It has not done yet!!!
Additionally, all infected humans... Oh my God!
It's a dead end... Is there any detour to the gas station?
Sigh, this door is locked...
Need to find the key......
I can see a park through this window.
Okay, I could open the gas station entrance locked with the key!
TIP: A closed door or lock can be opened by using the

E

key.
Where did all people go? Hey! No one!?
Radio Sound: Who is screaming? Get out of the gas station, everyone! Discard all equipment aboard!!
Radio sound: The flat is in danger! Detour to the park, and gather the roof at all costs!
Radio Sound: Aah!! Enemy is everywhere!! Aim for the head!!!
Alas... Did I make a mistake......
I think they got out of here by the truck before...
I do not know ... Let's go to the truck...
Behind the truck! The road is slightly inclined so I can easily push it by loosening the holder!
I see a gun shop!!
Maybe there is a survivor...
But I cannot pass because of the fire...
If this place is near a fire truck, it would be nice...
Let's go back to the fire truck turned towards the park.
Radio Sound: a large number of infections identified, objectives St. Park, coordinates 2194 over 1782.
Here you go! I'm a survivor!! Indeed, did they see me?
I think I need to find a valve... The water is too dirty. I think it's a risk entering....
No drainage to control the water level???
Seems that it works by inserting into the groove.....
Kya!!!... Are you aiming to isolate the city completely?
It can be operated with the level control device! Let pack.
TIP: Level control area has a total of 2 points.
It's locked with a padlock....
Okay, this key can proceed to the park's back door!!
It seems a fire extinguisher! Now I can turn off the fire on the driveway!!
Is there a way that I can access the roof towards this?
It seems to be able to jump to the gun shop's roof from the second floor of this building, but...
Radio Sound: Aah...!! May-Day! Retreat from this evil place...
Where do they go....
I'll be able to find them.... The survivors.
Come on hurry........
Available weapons and equipment
Release date
South Korea: 13 January 2015.
Taiwan/Hong Kong: 20 January 2015.
China: 21 January 2015.
Japan: 28 January 2015.
Indonesia: 24 June 2015.
CSN:Z: 26 June 2015.
Gallery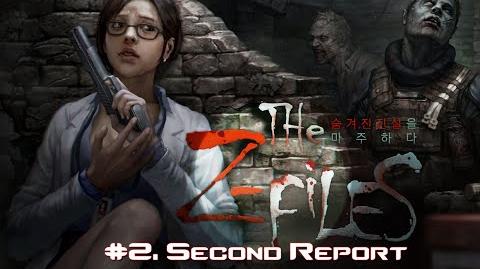 Trivia
---