Shooting Star is a grenade launcher in Counter-Strike Online based on the M79 Saw off obtainable randomly from Code Box.
Overview
Shooting Star will be equipped in the pistol slot. This is a modified version of a grenade launcher that fires flares. It holds 5 rounds for each round with 40mm flare and its mobility has been increased by cutting the gun barrel and butt plate. The secondary fire mode can make the grenade bounce before exploding.
Advantages
Grenades can bounce
Light weight
Short reload time
Disadvantages
Expensive
Extremely hard to see surroundings when the firecracker explodes
Available via code boxes only
Low magazine size
Tips
1 round of Shooting Star can deal 200 damage to a zombie.
Events
South Korea: 3 May 2012.
Taiwan/Hong Kong: 15 May 2012.
China & Japan: 16 May 2012.
Indonesia: 8 October 2013.
Singapore/Malaysia: 7 May 2014.
CSN:Z: 1 April 2015.
Vietnam: 21 May 2015.
Comparison to M79
Positive
Grenades can rebound when using the secondary fire mode
Neutral
Same damage (70)
Same recoil
Same accuracy
Same weight (0% speed reduction)
Same rate of fire (10%)
Same price ($2100)
Negative
Obtainable via Code boxes only
Gallery
Bounce sound
Ditto
Ditto
Draw sound
Explode sound
Fire sound
Ditto
Wick sound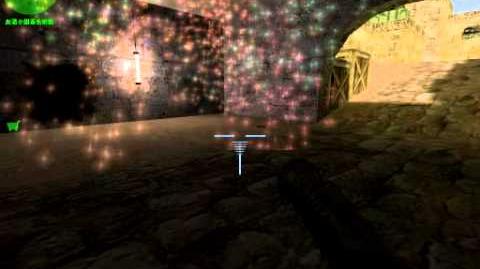 Trivia
This weapon is also called Firecracker as the rounds explode similar to normal fireworks or as shown in the game files.
The bouncing grenade can get stuck in the machine used to level up walls in Double Gate, if shot in the right angle.
The word "Firecracker" can be seen on the grip.
The iron sight is removed.
---