Sten Mk2 is a sub-machine gun in Counter-Strike Online.
Overview
This open bolt sub-machine gun boasts a big advantage and dominated the second world war with its 32 rounds of 9mm Parabellum, light weight and cheap price.
Advantages
High damage for an SMG
Good accuracy
Gives speed boost when wielded
Cheap
Can penetrate objects
Disadvantages
Decent recoil
Low rate of fire for an SMG
Release date
This weapon was released alongside World War II Weapons Event on:
South Korea: 18 September 2014.
Taiwan/Hong Kong: 7 October 2014.
China: 1 October 2014.
Japan: 8 October 2014.
Indonesia: 20 January 2016.
This weapon was released through Craft system on:
Comparison to MP40
Positive
Higher damage (+2)
Higher accuracy (+8%)
Cheaper (-200$)
Lower weight (-5%)
Neutral
Same knockback power
Same stun power
Same magazine size (32/120)
Same ammo type (9mm)
Negative
Higher recoil (+11%)
Lower rate of fire (-3%)
Users
Gallery
Pulling the bolt
Inserting new magazine
Taking out old magazine
Shooting sound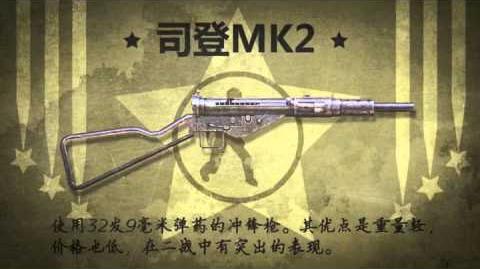 Trivia
This is the first weapon which uses a side-mounted magazine in Counter-Strike Online.
This is one of the few guns in-game that has the bolt handle located on the right-hand side.
This gun is incorrectly shown to be fired from a closed bolt.
The rate of fire is low for a submachine gun, which is in the level of assault rifle.
When wielded, the user can run 5% faster than wielding a knife. This is also the fourth weapon which is lighter than a knife after Steyr Scout, Tempest and Ripper.
External links
---
Community content is available under
CC-BY-SA
unless otherwise noted.