For the original version, see Gae Bolg.
Stinger is an Equipment primary weapon in Counter-Strike Online.
Overview
This weapon can be obtained from final level of 2019 Season 2.
A weapon designed to destroy the heart of a medieval vampire. Fires three stakes that each individually explode.
Advantages
Disadvantages
Release date
South Korea: 25 April 2019.
China: 29 April 2019.
Taiwan/Hong Kong: 30 April 2019.
Indonesia: 30 April 2019.
CSN:Z: 15 May 2019.
Comparison to Gae Bolg
Positive
Cheaper (-$750)
Does higher damage to zombies
Lower recoil (-42%)
Shorter reload time (-1.0 second)
Fires more projectiles
Neutral
Same weight
Same knockback power
Same stun power
Negative
Higher level in Zombie Z
Lower accuracy (-3%)
Gallery
Shoot sound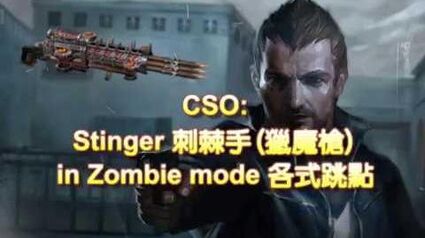 Trivia
Despite its system filename's designation as a minor weapon, its performance is superior to the original Gae Bolg.
---