"
Arm or Disarm!
"

— SG/MY slogan
Storm (de_storm) is an official bomb defuse map originally designed for Counter-Strike, which later passed success to Counter-Strike Online.
Map history
Storm was added into the game since Counter-Strike 1.3 until Counter-Strike version 1.6. However, there are no Counter-Strike: Condition Zero and Counter-Strike: Source versions for this map. This map returns in Counter-Strike Online.
Overview
Storm takes place in a castle-like armory. There are two bomb sites in the map. Both bomb sites store AK-47 assault rifles.
Official description
Counter-Terrorists: Protect weapons crates. These weapons are to be delivered to an allied country threatened by terrorists.
Terrorists: There is an attempt to arm small country your faction wishes to attack for the political reasons. Stop the weapons from reaching them.
Other Notes: There are 2 stashes of weapon crates in this mission.
Events
Singapore/Malaysia
This map was released alongside Raven and Michaela on 8 May 2013.
This map was released alongside Open Beta Test on 23 September 2014.
Vietnam
This map was released alongside Open Beta Test on 26 March 2015.
Gallery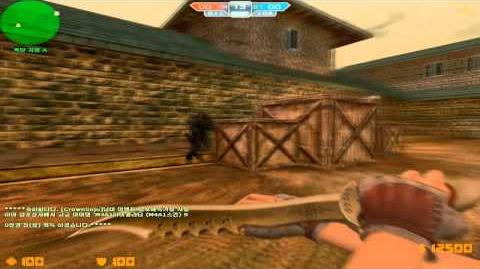 Trivia
Storm is one of the unpopular map in Counter-Strike.
In Bombsite B, there are many crates containing AK-47. The crates can be destroyed by the C4 and if you survive from the blast, you can pick up the AK-47.

The AK-47 at the bombsite is a regular AK-47, but performing the same trick in CSO Korea will allow the player to pick up an AK-47 HQ instead.

In Indonesia region, the map name is written incorrectly as "Strom".
---