For the original version, see AMT AutoMag V.

THANATOS-1 is a THANATOS pistol in Counter-Strike Online.
Overview
A pistol developed by Aegis Institute based on the AutoMag V and fed with 7 rounds of .50AE. It is equipped with Thanatos Blade System which launches a special projectile that explodes upon hitting a target, reducing their movement speed (must be a humanoid target) and lastly, fatal damage is inflicted.
Details: Right-click to switch to Launcher mode. The special projectile does damage, stuns, and penetrates enemies on hit. Damage: 18 (Normal), 79 (Zombie), 293 (Scenario)
Advantages
High damage
High accuracy
High rate of fire
No speed reduction
Fast reloading time
Blades can be generated at anytime with no conditions
Blades explode upon hitting a target
Wide explosion radius
Blades can bypass teammates
Disadvantages
Blades are ineffective towards humans and zombies
Blades do not instantly hit a target
Weapon is loud in general
Expensive price
High recoil
Loud shooting sound
Low magazine capacity and spare ammo
Only one blade can be launched at a time
THANATOS-1 Confirmed Set
With this set, the player can get the THANATOS-1 for sure from Craft using the Perfect Pick Recipe item, but the durability will determine the period of the weapon.
Release date
South Korea: 8 October 2015.
Taiwan/Hong Kong: 13 October 2015.
China & Japan: 14 October 2015.
Indonesia: 12 April 2016.
CSN:Z: 25 May 2016.
Tips
Overall
It takes 2 seconds to change the mode from normal to Thanatos form and vice versa.
As usual, players can active the Thanatos form directly (

RMB

by default), with no condition.
The blade quantity is unlimited, but only one can be carried at a time. When hitting grounds and walls, the blades will explode instantly, similar to BALROG-I. But they will penetrate the target's body once they go through.
Self-damage is inflicted to the operator if a blade explodes nearby, and the stun power during the blade explosion is also affect the operator. However, it is negligible enough to be ignored.
The reload animation mismatches the actual set time.
The blade can also go through teammate's body.
Users
Comparisons

Positive
Higher accuracy (+20%)
Lower recoil (-3%)
Higher rate of fire (+2%)
Faster reloading time (-0.2s)
Has Thanatos Blade System
Neutral
No speed reduction
Same knockback and stun powers
Same ammo type (.50AE)
Same magazine size in A mode (7/35)
Negative
More expensive (+$825)
Lower damage (-5)
Obtainable via crafting only

Positive
Cheaper (-$50)
Higher damage (+1)
Higher accuracy (+1%)
Lower recoil (-1%)
Has Thanatos Blade System
Neutral
Same rate of fire in A mode (82%)
No speed reduction
Same reloading time (2s)
Negative
Lower magazine size (-3) and spare ammo (-15)
Does not have Balrog Charging System
Obtainable through crafting only
Gallery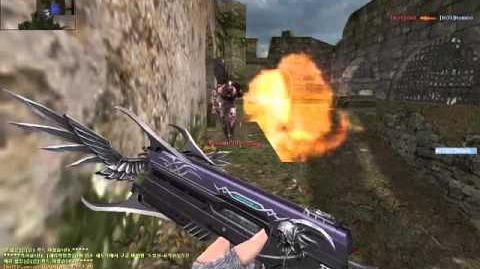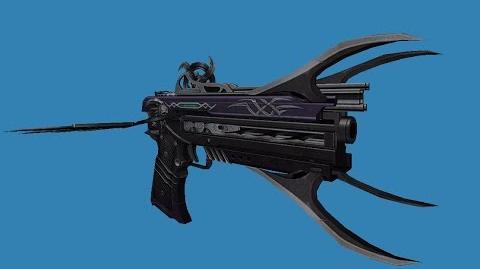 Trivia
Its Thanatos form is designed similar to THANATOS-11 and THANATOS-5, with 2 wings unfolded.
There is a Chinese character, "死" (Death), printed between the slide and the grip of the weapon, which can also be seen on THANATOS-11.
The reloading style is similar with most pistols in Counter-Strike: Global Offensive.
---