For the original version, see OICW.
THANATOS-5 is a THANATOS assault rifle in Counter-Strike Online.
Overview
An assault rifle fed with 30 rounds of 5.56 NATO, developed by Aegis Institute based on the OICW. Using a special grenade, it inflicts damage upon explosion by launching a number of blades subjected under Thanatos Blade System and split into several blades.
Details: Right-click to charge a special bullet. Right-click while the special bullet is charged to do a special attack. The special bullet does damage and splits into 4 bullets up to 3 times, doing reduced damage upon splitting. Initial Damage: 9 (Normal), 350 (Zombie), 2100 (Scenario)
Advantages
High damage, especially the grenades
High accuracy
High rate of fire
High clip size
Light weight
Unlimited spare grenades
Thanatos grenades are extremely effective towards zombies of all modes
Grenades explodes via contact to enemies
Upon explosion grenades will cluster up to three times
Disadvantages
Expensive price
High recoil
Long reload time
Takes time to change mode
The grenades deal no knockback power
Only 1 grenade can be launched at a time
Obtainable via Crafting only
THANATOS-5 Confirmed Set

With this set, the player can get the THANATOS-5 for sure from Craft using the Perfect Pick Recipe item, but the durability will determine the period of the weapon.
Tips
Overall
It takes 4 seconds to change the mode from normal to Thanatos form while 2 seconds in contrast.
The grenade's quantity is unlimited. However, the player can launch only one at a time.
When exploding, the grenade will separate into 4 smaller ones, each of them keeps splitting into 4. In total, there are 3 times of splitting and 16 grenades after the last time. Each splitting time takes 2 seconds. There are a total of 21 explosions.
Each grenade explodes instantly if it comes in contact with a body.

Each grenade also deals a small amount of damage if it explodes on the user, but the damage is negligible enough to be avoided as long as the user is still wearing a kevlar.
In A mode, it can deal 29 ~ 180 damage per shot to zombie, while in B mode it can deal 300 ~ 4,000 damage per grenade. Using this weapon in confined spaces such as Assault's ducts as a supporting weapon is highly recommended.
In Zombie Scenario, the T-5 is a perfect crowd control weapon if the player are facing a cluster of zombies. In terms of damage, T-5's primary fire can deal 30 ~ 150 damage per shot to bosses, while its alt-fire it can deal up to 2,000 ~ 10,000 damage per grenade. Having all grenades hit the bosses' body continuously, will deal a generous total damage of 200,000+. Despite that, it's not a great weapon for destroying barriers.
The Thanatos-5 is most recommended weapon to use should the players are looking for an easy HARD-9 clear daily. A full team wielding this weapon with Secret Research Funds can tackle Double Gate at the highest difficulty.
Comparisons
Users
Release date
Taiwan/Hong Kong & China: 28 May 2015
South Korea: 4 June 2015
Gallery
Shooting sound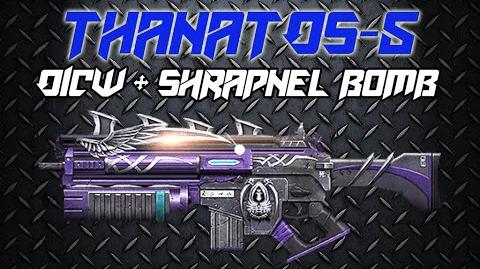 Trivia
Its Thanatos form is designed similarly to THANATOS-11's, with 2 wings unfolded, note that the wings resembles the blades of THANATOS-9.
---