TURBULENT-5 is a Rare assault rifle in Counter-Strike Online.
Overview
This is an assault rifle fed with 30 rounds of 7.62 NATO based on the M14 EBR. It is equipped with TURBULENT Engine System that enhances its rate of fire.
Advantages
Very high rate of fire
Excellent damage
High accuracy
Low recoil
Has good stun power
Disadvantages
Heavy weight
Quite long reload time
Runs dry easily
Release date
South Korea: 9 February 2017.
TaiwanChina/Hong Kong/China: 14 February.
Japan: 15 February 2017.
Indonesia: 2 May 2017
CSNZ: 26 July 2017
Tips
Normal Matches
Since TURBULENT-5 has high accuracy, high rate of fire and low recoil, it is recommended to be used in Team Deathmatch and Basic.
Use burst firing if the opponent's position is in long distance.
Its rate of fire is high. Use it really carefully, since you can dry the weapon easily.
Zombie Mode
30 rounds of TURBULENT-5 with Deadly Shot can kill two zombies with 3500 HP.
Due to high accuracy, it is easy to get a headshot to the zombies with large head hitbox.
It is also good for incoming Light Zombies.
Comparison to M14 EBR

Positive
Lower recoil (+11%)
Higher rate of fire (+3%)
Higher magazine size (+10)
Higher accuracy (+3%)
Neutral
Same weight (16%)
Same reserved ammo and ammo type (90/7.62 NATO)
Negative
More expensive (+$3600)
Lower damage (-11)
Longer reload time (+0.5 seconds)
Gallery
Firing sound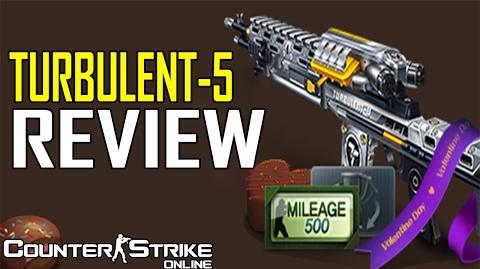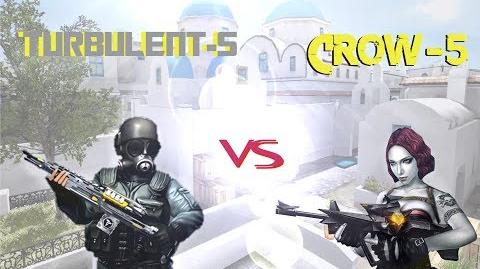 Trivia
---
Community content is available under
CC-BY-SA
unless otherwise noted.