Fun Facts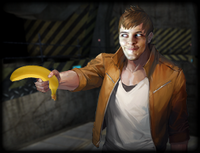 Did you know that...
...there are the faces of Light zombie and Heavy zombie on Frozen Terror's body?
...Jim is the leader of Red Lizard Mercenaries and Norman was his most trusted comrade before he betrayed to Vanguard?
...inside the Heavy zombie's body, there's a small banner showing "Copyright [2007] NEXON & Valve Corporation. All Rights Reserved."?
...Counter-Strike Nexon: Zombies was a contrast to Nexon's statement about the game being exclusive to Asian regions previously?
...you can throw flashbang twice with 1 quantity of flashbang in some Zombie Escape map?
...functional doors can be destroyed in Zombie PvP modes?
...the Blade Runebreaker maximum range more longer than B mode of Magnum Drill?
...Flame Jackhammer, and Battle Ultimax-100 are never released in CSN:Z?
...Blade Runebreaker is listed in CSN:Z's strings three times before its actual released?
...CSN:Z is often used to tease other region's content by releasing nearly similar weapons?
Wanna add yours? Click here!
Community content is available under
CC-BY-SA
unless otherwise noted.