Jurassic World: Dominion Dominates Fandom Wikis - The Loop
Play Sound
Thompson Chicago is a submachine gun in Counter-Strike Online. It was purchasable through Vintage Collection set or directly from Shop.
Overview
A submachine gun which holds 50 rounds for each round with .45 ACP. It was very famous during the prohibition era and often used by mafias.
Advantages
Disadvantages
Expensive caliber type ($25 for 12 rounds)
Long reload time (3.7 seconds)
Shares the same ammunition with .45 ACP caliber users
Release Date
China & Taiwan/Hong Kong: 2 March 2011.
South Korea: 17 March 2011.
Singapore/Malaysia: 27 July 2011.
Indonesia: 10 October 2012.
Turkey: 21 August 2013.
CSN:Z: 23 September 2014.
Vietnam: 26 March 2015.
Taiwan/Hong Kong: 27 April 2010.
China: 28 April 2010.
South Korea: 17 June 2010.
Singapore/Malaysia: 25 April 2013.
Indonesia: 1 May 2013.
Turkey: 16 April 2014.
CSN:Z: 1 April 2015.
Vietnam: 21 May 2015.
South Korea: 13 December 2018
Taiwan/Hong Kong: 18 December 2018
China: 19 December 2018
Tips
Normal matches: Average 4 hits are needed to kill a full health enemy with this weapon.
Zombie Mods: A 50 rounds Thompson Chicago can do 1400 ~ 2800 damage to zombies.
Scenario: After purchasing this submachine gun for $2000 and its ammunition for $1250, the player will have $4250 as reserve.
Variants
Thompson Gold - Was obtainable from Code Box. Lighter and boasts a high rate of fire but less accurate.
Weapon Enhancement
Thompson M1928 can undergo Weapon Enhancement to upgrade its performance.
Statistic
+1
+2
+3
+4
+5
Damage
x
x
x
x
-
Accuracy
x
x
x
-
-
Recoil
x
x
x
x
-
Rate of fire
x
x
x
-
-
Weight
x
x
-
-
-
Clip size
x
x
-
-
-
x = available, - = not available
Users
Terrorists:
Counter-terrorists:
Comparison to P90
Positive
Higher damage (+10)
Cheaper (-$350)
More accurate (+2%)
Enhanceable
Neutral
Same recoil (9%)
Same magazine size (50)
Purchasable by both teams
Negative
Cash point
Slightly lower fire rate (-1%)
Slightly heavier (+1%)
Expensive caliber price ($25 for 12 rounds)
Longer reload time (+0.3 seconds)
Gallery
Firing sound
Draw sound
Reload sound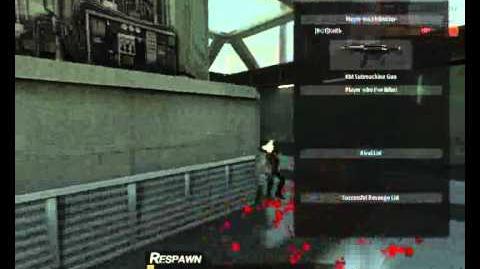 Trivia
This weapon has words "John Dillinger" and "Public Enemy No. 1!" with a paint job of three mafias, a reference to John Dillinger, Pretty Boy Floyd and Baby Face Nelson. Also there's skull and roses engraved on its texture, which was excised from the golden variant.
This is the first submachine gun that can be enhanced. However, it does not apply to the Golden variant.
This gun is incorrectly shown to be fired from a closed bolt.
In the South Korea, Taiwan/Hong Kong and China region, the Gold variant was released released before the default variant.
External links
---