Line 52:
Line 52:
 

* My IGN: YanShuChi

 

* My IGN: YanShuChi

 

* Family: BloodyRose

 

* Family: BloodyRose

−

* IG Level: 763 (95%)

+

* IG Level:  (95%)

−

*Honour Points: 530 (Purple)

+

*Honour Points: (Purple)

−

*Honour Badge: Season 3 Conqueror (Rainbow Trail)

+

*Honour Badge: )

 

*[[Manner]]: Best

 

*[[Manner]]: Best

 
 
---
Revision as of 02:56, 10 October 2019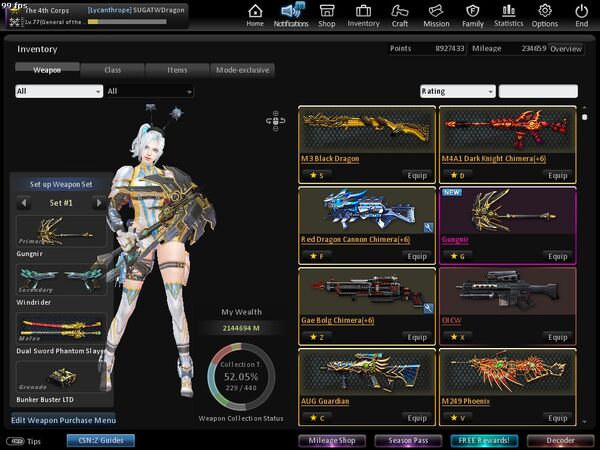 Welcome, Anonymous, to my profile
Just a brief welcome in languages I understand (I'm still Learning Korean)
내 카스온라인팬덤불로그에 오신 것을 환영합니다
歡迎來到我的絕對武力 Fandom 部落格。
ようこそ 私のカウンターストライクオンライン Fandom ページ。
Finally... Welcome to my CSO Fandom page
​​​​​​

CSNZ Profile
Steam Name: 슈가TW龍 (Add me if you want to)
My IGN: YanShuChi
Family: BloodyRose
IG Level: 768 (95%)
Honour Points: 640 (Purple)
Honour Badge: Doppelganger (was part of the Doppelganger Army in CSOW Discord)
Manner: Best
If you wanna add me on steam, send a request and message me of who you are.
Most used Classes in both CT & TR
Best Classes I own
Classes I want (If they are actually gonna add it)
OP weapon
Buff Weapons in CSN:Z
Non-Buff Weapons
ALL OF THEM!!!!!!!!!!!!!!!!!!! But these are the ones I use the most
MG3s I own (As in it is not available in the Top 50 Decoder)
Primary Weapons I want

Secondary I want

 -> can try to get it but probably will not be able to get it by the end of the event
Melee weapons I own
Melee(s) I want
N/A as of now
Zombie Scenario Mode Tip for Hard 9 Double Gate
Community content is available under
CC-BY-SA
unless otherwise noted.