Well, it's begin when my 3 hour waste for nothing,lol
THE IN GAME NOTICE and webpage notice SAY, WASURA can be completed in easy/normal/hard
then, I ask the GM, since my progress didn't count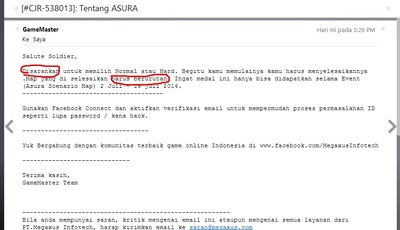 Well then,you can click the picture
to see it, I'll translate it for ya,lol
Salute Soldier, Disarankan untuk memilih Normal atau Hard. Begitu kamu memulainya kamu harus menyelesaikannya .Map yang di selesaikan harus berurutan. Ingat medal ini hanya bisa didapatkan selama Event (Asura Scenario Map) 2 Juli ~ 16 juli 2014
Translate:
It recomended to choose normal or hard difficulty, once you begin it, you have to completed it,and you MUST doing it from S1 to S3, Remember !!, this medal only available for 2 weeks (2 juli - 16 juli 2014)
And this my expression
FAQ:
Q:Why you post it in here ?
A: cause there's some Indonesian,like mine who still doubt
Q: I'm already doing LC at easy, and my 3 hour is vain
A: lol, I  know dat feel
Q: NO, YOU DIDN'T
A: I'm doing the same thing dammit -,-
Q:it possible contraz will delete this ?
A: yeah, Since I'm using rude languange <(") =3 =3
Q: will you blame vampire hunter for this ?
A: no, he innocent, since our CSO version is different
Community content is available under
CC-BY-SA
unless otherwise noted.