VSK-94 or simply VSK is an automatic sniper rifle in Counter-Strike Online purchasable only for Counter-Terrorists with game points.
Overview
This 20 rounds, 9mm submachine gun can be used as a sniper rifle with an attached scope and a silencer. Generally, it has high rate of fire and light weight.
Advantages
Highest rate of fire for a sniper rifle
Does not affect player's speed
Cheap ammunition cost
Cheap for a sniper rifle
Disadvantages
Lowest damage for a sniper rifle
Not accurate when fired in full-automatic
Easily runs dry
Only purchasable for Counter-Terrorists
High recoil
Users
Counter-Terrorists:
Tactics using VSK-94
Never use in full-automatic except in very close range as the bullets will spread straight upward.
This weapon is ideal for headshots in Team Deathmatch due to enemies not wearing helmets.
Comparison to Dragunov SVD
Positive
Cheaper (-$350)
Lower recoil (-40%)
Higher rate of fire (+23%)
Lighter (-0.97 kg)
Larger clip size (+10)
Shorter reload time (-0.4 seconds)
Negative
Lower damage (-68)
Lower accuracy
Can only zoom once
Variants
Star Chaser SR

Main article: Star Chaser SR
This is a modified VSK-94 that fires Star Bullet rounds that explodes on impact.
Gallery
Firing sound
Draw sound
Reload sound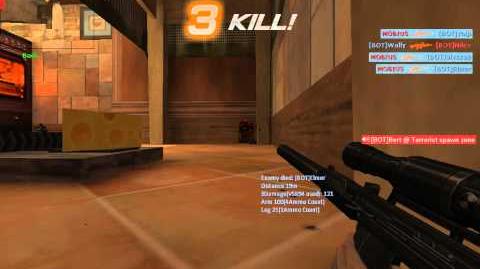 Trivia
This is the first silenced sniper rifle in-game, as well as the first that uses a 1x scope.
Despite sharing an ammo pool with the pistol caliber 9mm Parabellum, in reality the VSK-94 uses 9x39mm rounds which does better damage and is able to penetrate walls.
External links
---